Like others before me, I used to struggle on that great big hill of trying to figure out what makes me human.
What's up? What's going on?
I bet you've heard those questions before.
Then out of the blue, 7 years ago, in 2016, struck by lightning, I realized that human is a word.
Nothing has been the same ever since.
Of this you can be sure:
When you change how you look at words, you'll see that a word is the only that can be denied only by confirming it.
What that means is you can deny, if so inclined, everything you have a word for, but to do so you must use it. There is no other way.
Call it a dream, it doesn't change anything.
Strange
If that sounds strange, maybe you haven't read my brutally honest warning yet.
If so, you risk missing out on what this post is about.
What makes you human?
Human
To understand what makes you human, I think you should pay the bulk of your attention to the story of words below for a minute or two.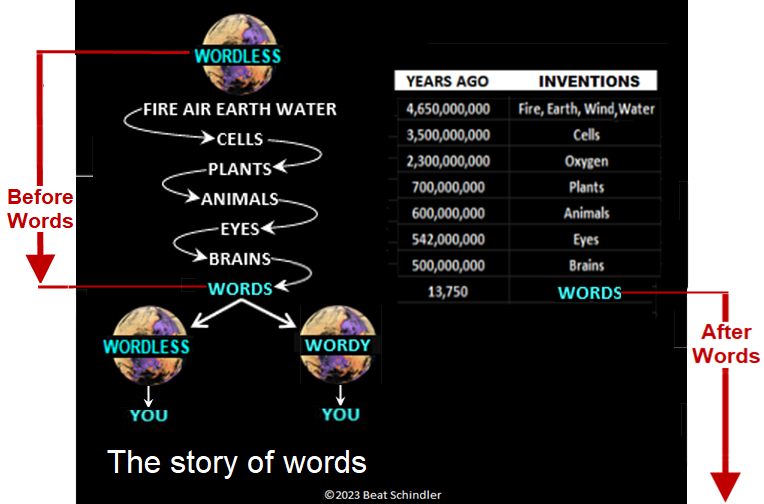 The story of words above leaves no doubt…
Words got invented 486,250 years after the brains got invented first.
The story of words (1) is equal to the number of the planet (1) we're passengers on.
The animal that spoke the first word on our planet is everybody's ancestor.
We're all in this together.

The story of you shows that for you (and me), the time between brain and words was 486,250 years shorter than it was for the planet.
What the illustration doesn't show is that time is relative.
Sixty seconds can be an eternity.
We're not the only ones
We're not the only ones with eyes, ears, tongues, skin, hair, heads, sex, art, the ability to respond to stimulus, upright walk, bipedalism, intelligence, IQ, wisdom, brains, bigger brains, and complex brains.
However, we're the only ones with words.
That doesn't mean we're born with words. We merely learn them as time goes by.
But this doesn't make us human.
It makes us what we've always been, animals with words, but animals nonetheless.
We're the only ones
We build schools to learn words.
None of Earth's other 8.7 million species of insects, plants, and animals attend school to learn words.
Nor do the things the universe is made of, such as the sun, the stars, the atoms, the particles, the energy, the electricity, the fire, the oxygen, the earth, and the water, to name a few.
Yet, they know more than we'll ever know.
Makes you wonder what school is for, doesn't it?
What makes you human
The answer to "What makes you human?" is "Absolutely nothing."
Human exists for no other reason than to make you believe you're separate from what you are, an animal with words.
Which explains not only your individual behavior but also that of every other word-user on Earth.
We're all in this together.
What is more natural than that?
PS.
Should you find it difficult to believe that absolutely nothing makes you human, see what others are saying about human.
Relax, I did the hard work for you.
Bing.com
Human: About 36'600'000 results.
Wikipedia the world' most read reference work
"Humans are the most abundant and widespread species of primate, characterized by bipedalism and large, complex brains."
"human. See synonyms for: human, humans, humanlike, humanness, on Thesaurus.com. Adjective: of, relating to, characteristic of, or having the nature of people: human frailty. Consisting of people: the human race. Of or relating to the social aspect of people: human affairs. Sympathetic; humane: a warmly human understanding. noun: a human being."
"​human [only before noun] of or connected with people rather than animals, machines or gods, the human body/brain, a terrible loss of human life, human development/activity/behaviour, Human remains (= the body of a dead person) were found inside the house, Contact with other people is a basic human need, This food is not fit for human consumption, one of the greatest leaders in human history, He tried to use a bystander as a human shield, Firefighters formed a human chain (= a line of people) to carry the children to safety, After washing her face, she felt almost human (= like her normal self) again, showing the weaknesses and desires that are typical of people, which means that other people should not criticize the person too much, human weaknesses/failings, It's only human to want the best for your children, having the same feelings and emotions as most ordinary people, He's really very human when you get to know him, Perhaps she's human after all, he thought, The public is always attracted to politicians who have the human touch (= the ability to make ordinary people feel relaxed when they meet them), COMPARE inhuman, non-human, the human face of…, a person who is involved in a subject, issue, etc. and makes it easier for ordinary people to understand and have sympathy with it, He is the human face of party politics, the milk of human kindness, (literary) kind behaviour, considered to be natural to humans, with a human face, that considers the needs of ordinary people, This was science with a human face."
PPS.
Personalized exploration
Explore yourself — what you are, do, and possess — and gain fundamental insights you will never regret with personalized guidance and resources tailored to your unique journey.
Connect with like-minded word-users, share experiences, and learn together with others how it all began, why we're here, and why the wordless aren't.
Join SchindlersWord's waitlist to be the first to access my knowledge of words.
Start your journey of discovery when I begin the roll-out on words with the harvest moon rising.