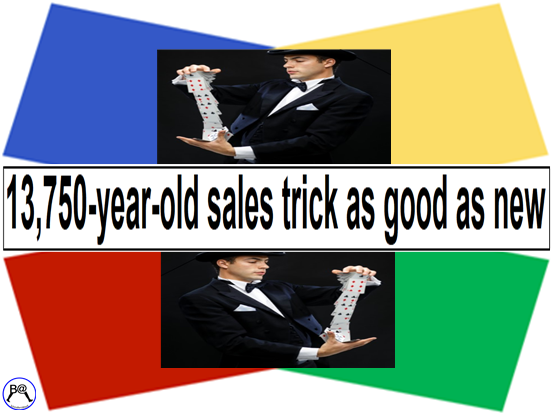 A 13,750-year-old sales trick continues to work as we speak, so you might of course want to know what it is and what we're talking about.
Well, first things first, a trick is intended to deceive.
As you'd expect from a trick that has deceived without fail for the past 13,750 years — which is when the words got invented — is that it must have deceived as many word-users back when the age was stone, the Sahara green, and Northern Europe was under 1-mile-thick ice, as it continues to deceive now, 13,750 years later.
If you think that's the 13,750-year-old sales trick this post is about, you're spot on.
It's as if time has left no trace on the workings of this nearly 14,000-year-old sales trick.
Sales implies that the trick is based on words. Needless to say, but for the purpose of this post I say it anyway, sales is a word, and so is trick.
In the wordless world, sales and trick don't exist for obvious reasons. But in the wordy world, everthing is different.
In case you haven't read all my articles published since July 10, 2023, let me remind you that there exist two types of citizens on planet Earth, the word-masters and the word-users.
The word-masters are word-users that have known in the beginning is the word since the beginning of words.
The word-users do as told by the word-masters.
There's nothing new about the word-masters, the minority, and the word-users, the majority. On the contrary, the relationship between masters and users has remained unchanged for thousands of years, and now is no different.
All of us
The word-masters and the word-users alike, that is all of us, know from personal experience that we depend on context and contrast to stay alive.
Should we lose our ability to be in charge of our own context and contrast, that means we simply surrendered our senses and nervous systems to the private manipulation of those who would try to benefit from it. When this happens, you'll be in trouble in the blink of an eye or by the end of the day, whichever comes first.
This we've known long before Maslow wrote it down for everybody to see, because, let's face it, we're all animals with words — though we love to pretend otherwise — so we know what we know with or without words learned at school.
After all, the 100% cells that we're made of are wordless, too, and each cell knows much more than we'll ever know.
The setup can be rigged
If you're not in charge of your own context and contrast, then somebody else will be more than happy to take charge for you.
That somebody will likely be evil word-masters bent on taking advantage of this natural survival skill by rigging the setup in their favor.
When you surrender your senses and nervous systems to the private manipulation of those who would try to benefit from it, you have no rights left, and you don't compare as you had initially intended, apples to apples, but you now end up comparing apples to oranges, or you can even be manipulated to believe an apple is an orange.
There are many ways to do this.
Takeaway
The challenge is knowing who is in control of the context and the contrast.
Make sure it's you.
You can't win with a losing hand.