No matter how hard you try
If you're like me, you always struggle with your identity no matter how hard you try. Or until you change your approach. When I got tired of it, that's what I did,
The reason I struggled with my identity is that I had begun with a bad beginning. When I started out, I ignored the fact that a bad beginning makes a bad ending for longer than I care to remember. I didn't know it at the time, but it is a fact of life and there's nothing I can do about it now.
Of course, there is nothing new about "Bad Beginning=Bad Ending." Thanks to Euripides who said it first, we've known about it for 2,500 years.
My identities changed
For a large part of my life, I connected my identity to the place where I was born, to my nationality, to my human-ness, to the work I did, and to a number of other things as well.
The results were pretty predictable. My identities changed every time I came across a new idea.
Everything changed
Everything changed when I saw that only way to a rock-solid identity is a rock-solid understanding of the past.
What have words got to do with it?
Words are 10,000 years older than stories. It's a fact of life that can be denied only by confirming it.
Practically speaking, this means that words can tell you more about the past than a story ever could.
The illustration below…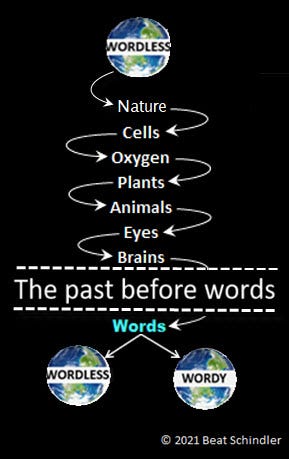 …tells you that as far as the past is concerned, Earth's began with nature.
The natural way
The natural way consists of what is known as the elements: Fire, earth, wind, water, and the universe.
To understand the past, you must understand that the elements — fire, earth, wind, as well as the water — arrived on Earth by means of space travel, billions of years before we believed we've invented it. Space travel is nature's invention, not ours.
The same it true for everything that followed — the cells, the oxygen, the plants, the animals, the eyes, the brains, the words, as well as the humans.
Naturally speaking, it means that the eyes, brains, words, and even the humans, are nature's inventions, not ours. Yup, we didn't invent us ourselves. Nature did, and for each of us, still does.
Practically speaking, that means we are part and parcel of nature, not separate from it.
When you understand the past in this way — near as I can tell, the only way — you will not ever struggle with your identity again. On the contrary, built on rock-solid ground, it will now outlive you forever and a day.