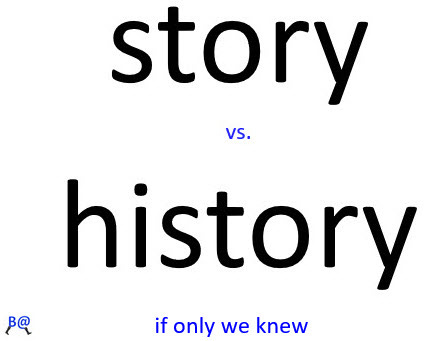 This is an open letter to anyone confused by story and history.
STOP IT!
It is confusing the heck out of the children!
You might say story and history are only just words, so what's the big deal, and I understand and respect why that is.
Granted, there is nothing new about it…
"Some people, unable to go to school, are more educated and more intelligent than college professors." – Maya Angelou
"It took many years of vomiting up all the filth I'd been taught about myself, and half-believed, before I was able to walk on the earth as though I had a right to be here." – James Baldwin
"When I look back on all the crap I learned in high school, it's a wonder I can think at all." – Paul Simon
…this has been going on for thousands of years. All the more so, I think this is worth to re-member what everybody knows.
We are born wordless, not stupid.
It doesn't take us long to understand words are the frontier to the adult world.
Nothing else even comes close.
However, once wordy and able to ask "Why?", we tend to forget just how daunting a frontier words had seemed in the beginning. And to understand why that is and what that means, we look up to the adults to tell us the truth.
THE TRUTH
Coming from adults, it must be true, we thought in the beginning, for they know how being a child works.
To learn what we are and what to be, children will look to the adults to guide them along the way. To understand which way to turn in this strange new world, there is nobody else in sight. Children depend on us adults 100%.
Yet, as if "Confuse the children!" were the marching orders, religions pretend the truth is in a book they have a copy of, mathematicians claim the truth is written in numbers if you just take the time, politicians pretend the truth comes out of their mouths, to which scientists say, "Bullpoop, words have got nothing to do with it, they just happen to be what we describe the truth with," and the internet says…well, good luck with that.
For the adults, it is okay, because we've been made to get used to it, but for the children, caught in the middle of it, distrust is as high as the confusion is complete. They might even wonder what words are for in the first place. It is tempting to imagine that a faster internet or breakfast on Mars will make a difference, yet I also wonder what if we paid the bulk of our attention to making a difference to education instead?
WE MAY NOT MAKE IT
We may not make it to the top of the hill, but our children will. Either we teach them to be the masters of their words or their victims. And if we don't understand these fundamental components of how words and worlds work, our actions undermine our goals as well as our offspring's.
STORY AND HISTORY
Nobody knows the difference between the two. More than reason enough, I think to end the confusion.
Let's get rid of history.
It's effortless. Just stop using the word. That is the natural way to end words.
It won't change the world, but it's a start.
"Careful the path you take, wishes come true. Careful the spell you cast, not just on children. Sometimes the spell may last past what you can see, and turn against you. Careful the tale you tell. That is the spell." – Steven Sondheim